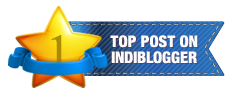 We live in troubled times where dustbins have bombs and not rubbish. CCTV's are mere props that turn a blind eye to all that's suspicious. Intelligence agencies have little intelligence, the Police clueless and religion is an excuse to spray bullets on unsuspecting innocents. Leaders issue robotic condemnations. Public outrage comes with an expiry date and awaits renewal when terror raises its bloodied head, yet again.

But do we let fear stalk our minds and deprive ourselves the pleasure of getting pushed and shoved in busy markets and public spaces just because there might be a time bomb ticking away in one of the garbage dumps? Of course not!

Trust RSS to come to our rescue and come out with a helpful advisory on 'How to recognise a terrorist', so that you can nab one before you end up as a garlanded photo on your wall.

According to RSS, terrorists wear warm clothes even in hot weather.

Since winter is a state of mind especially in Mumbai which is mostly imaginary according to Delhiites, who decides how hot is really hot? Do we declare Mumbaikar belles slipping into boots with jackets and Bengalis shivering in monkey caps when the mercury plunges to a low of 28 C, as a threat to the country's security because it's not winter till it's a freezing 0.4 C? Going by the same analogy, shouldn't Delhi girls, pretending not to die of hypothermia in their itsy bitsies in order to keep their hottie label intact, be deported to Pakistan for specialized training?

For some strange reason, airport security in Brisbane (my last country of residence) was convinced of my bombshell-ness. Despite my season appropriate wardrobe, I was unfailingly stopped for 'random security checks' and frisked for explosives.

Terrorists approach people with casual talk and there are certain changes in their behaviour – if they are standing, they will start running.

This is bound to have serious consequences for all men who will have to ditch small talk as the sure fire way of approaching a woman. Imagine men having to talk about the purpose of life, Stephen Hawking's theories on the Universe and the cosmos just to make sure they are not mistaken for a terrorist!

So, the next time the bloke with spiky hair reeking of Dabur Amla kesh Tel approaches you to ask – Madam, time kitna hua hai – promptly respond with a blood curdling scream. If he starts running in the opposite direction, holler – his name is Khan and he's definitely a terrorist.

If he holds doors for you, apologizes profusely as he stomps on your feet and doesn't try to throw you on the tracks while boarding the Metro – he's not only but a terrorist but an International one.

In fact, all gentlemen in Delhi, handsome men in Chennai, pro-India Kashmiris, butter chicken hating Punjabis and Goans who do not take 2 hour long siestas are enemies of the state and should be promptly sent to Yerwada jail to work out with Sanjay Dutt.

They suddenly meet certain people and disappear.

This path breaking finding by RSS is further proof that your Internet boyfriend who left you high and dry without even a proper goodbye was in fact an 'under the cover' aatankwadi.

Though I'm eternally grateful to RSS for coming out with this life-saving list, I'd humbly like to bring to their kind attention the most tell-tale feature of a terrorist they forgot to add to their advisory.

It is a known fact that 9 ½ out of 10 terrorists prefer hiding their face behind hair follicles. Think Hafiz Saeed, butchers of ISIS and Talibanis.

But with so many men with beards, how do you make out that he's the one? I say observe him closely. If he's scratching his beard furiously and you see him taking out suspicious looking objects only to squash it with his nails, go and sniff his underarms. If you don't survive to tell the tale, you can go to heaven safe with the knowledge that the bulge in front of his salwar was in fact a grenade. Too bad you had to carry his secret to the grave.

Unfortunately, terror is no longer the prerogative of the foolish, unwashed and the uneducated. In fact, many do not let intelligence get into their way of fancying themselves as rebels waging a war against the infidels. So, if they can become techies and land jobs in Bangalore, what stops them from shaving off their beards and pretend to be normal?

Therefore, for the sake of your country's safety, you should assume all men with and without beards are terrorists.

It is now up to women without beards and our RSS brothers in shorts to save the country from the clutches of terror. But remember, if you approach the police for help, you should be prepared to be grilled instead.

Does it still come as a surprise that India worships 33 million Gods and fasts 360 days a year to appease them for the well-being of their family?
Source - http://indianexpress.com/article/india/india-others/how-to-tell-a-terrorist-jackets-in-summer-odd-behaviour/